Adjustable and lightweight: Hailo FlexLine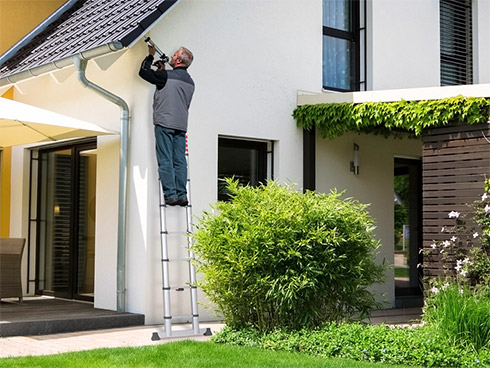 If you want to go up in the world, you sometimes need a certain degree of flexibility. This is true, for example, when you need to carry a ladder in a lift or up a narrow staircase.
Hailo now has exactly the right answer: the new telescopic aluminium safety ladder FlexLine which can be easily collapsed and is handy to transport. With its compact dimensions, it fits into any car boot and therefore provides a simple solution for anyone who doesn't just want to use their ladder inside their own home but every now and again at their holiday home or their workshop as well.
Due to its clever telescopic design, the working height can be adjusted as precisely as the job requires since the ladder extends rung by rung. The 9-rung version extends to a length of 2.6 metres, while the 11-rung ladder extends to 3.2 metres and the 13-rung to 3.8 metres. The thinking behind the design has gone into even the smallest detail and offers more compelling benefits as well, such as the height-adjustable rung elements with pinch protection to prevent injury from trapped fingers. And with its useful one-hand-only unlocking system, the ladder couldn't be easier to collapse. A key safety bonus is provided by the automatic rung-locking mechanism with visual guide: black indicates that the ladder is duly "locked" and ready for use, while red on the other hand shows the ladder is "not locked". Extra-deep 40 mm rungs allow the user to stand in comfort when working on any job at an elevated height.
With its large, non-slip feet and additional crossbar on the 11 and 13-rung models, the telescopic ladder which takes maximum loads of 150 kg is suitable for all floor coverings. Whether it's used on roughcast, carpet or wood surfaces, the impact protection with safety grip improves the user's hold when the ladder is leant against the wall. And of course the new ladder model meets all the requirements of the current EN 131-6 standard.