Balance is everything: Harmony by Hailo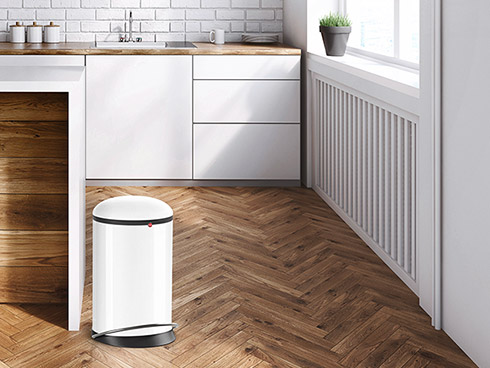 With the introduction of its new Harmony M designer-style pedal waste bin, Hailo continues to extend its design concept across all product lines.
As the name already suggests it's all about harmony, and this functional item with its typically curved lid makes a great impression with its soft and emotive shapes and simple elegance and is therefore a match for all modern interiors.
The centrepiece of the brand, the red dot, represents Made in Germany top quality and sends out a strong signal to end users. That's why the red dot is placed in a prominent position on the body of the bin.
As well as providing a contemporary look, Harmony also brings an extra helping of convenience to day-to-day life: the ergonomically wide metal foot rail allows the bin to be operated from the side as well. A light tap with the foot is all it takes for the typically curved lid to open. The broad base ring fitted with two non-slip feet ensures that the bin stands securely on all types of floor. After use, the lid lowers with barely a sound thanks to Hailo's innovative Soft Close feature, a cushioned mechanism for closing the lid.
Ever been stuck with your hands full of kitchen waste? It's no longer a problem with the bin's large opening angle which makes it easy to drop waste into the bin - and remove the black plaster 12-litre capacity inner bin. A handy rubber clamping ring holds the bin liner reliably in place so that it can't slip down. And it couldn't be easier to move the bin around to wherever it's needed with the carry handle built into the hinge.
This decorative all-rounder is supplied in two attractive styles with a choice of housing and lid in stainless steel or corrosion-resistant coated sheet steel in White, Silver, Red, Vanilla and Black. This ensures that the model is available in the appropriate colours for current kitchen trends - from cottage or urban jungle right through to industrial chic.
With the visual added value and a high level of user benefit provided by the innovative Harmony waste bin, Hailo has once again underlined its extensive design expertise and focussed brand leadership in the Living segment.