Brands of the Century - More recognition for Hailo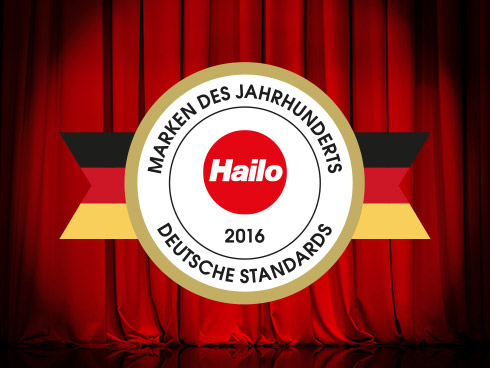 Every three years the renowned publishing house, Deutsche Standards, celebrates the "Brands of the Century".
The exclusive new edition of the Stars 2016 book features the famous and not-so-famous greats of German brand royalty and their fascinating histories. And Hailo too can be proud to receive the award. The family SME based in Haiger is seen as an iconic brand which many consumers automatically associate with a classic product: the aluminium ladder.
The product the manufacturer first launched on the market in 1954 and has since made the market leader for ladders in Europe is the safety ladder for household use. Originally fabricated from steel, Hailo introduced the first aluminium ladder in 1960, a forward-looking invention which provided the perfect combination of lightweight handling and stability. Back in 2004, the company was listed in the "German Standards - Brands of the Century" encyclopaedia, placing it in the ranks of the 250 or so most important German brands.
Hailo still continues to re-invent itself and stands for pioneering innovations which regularly set the standards in the industry for functionality, quality and design. It also impressed the panel of experts advising the publisher, Dr. Florian Langenscheidt, who nominated the "stars among a whole firmament of brands" which feature in the book following an all-round selection process.