Everything within reach: Hailo OneStep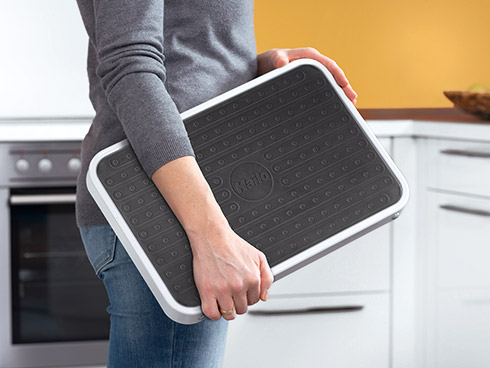 For decades, the brand with the red dot has been synonymous with clever ideas that make work safer, easier and nicer. Hailo's latest addition to its product range is another practical aid for the home.
OneStep is the name of a new steel folding step which is ready in no time at all and can be effortlessly stored away when not in use. What's clever here is that it folds down to just 3.5 cm in width, so it fits into any nook or cranny - or even in a drawer.
Whether it's the rarely used ice-cream maker in the tall cupboard or the file on the top shelf, some items are at your fingertips but still out of reach. This is where OneStep comes in, to bridge the gap. At only 16 centimetres in height, it's the perfect solution for instant access to a height of around 190 cm. And it's a firm favourite in the bathroom, where kids love climbing up it to clean their teeth!
As ever, safety is a priority at Hailo: The folding step - which has a maximum load capacity of 150 kg - has a large platform fitted with a non-slip mat, as well as non-slip plastic feet for all-round stability. An additional convenient feature is the hinged lock with release button.