Get the look: Hailo KitchenLine design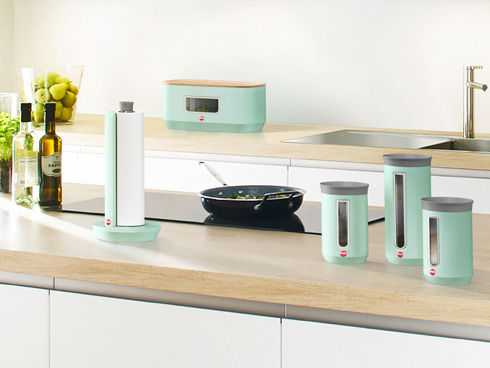 Today, life happens in the kitchen - it's a place for people to meet up for social gatherings and a theatre for cooking all in one. As a result, more and more people value having a contemporary facility and accessories which make a good impression from both a functional and visual point of view.
KitchenLine Design is a new range of accessories launched by Hailo with a fresh and young look that customers love. Bread bins, storage containers and kitchen roll holders have a timeless look about them with their clean lines and in colours that pick up on the mood in today's kitchen environments. As well as White and Grey, the trend colour making a grand entrance is Mint.
Whether used for mix & match, urban industrial charm or country kitchen style, these chic accessories with their soft, matt surface attract admiring glances everywhere. Mint and Grey provide a cool touch and are an outstanding match for easy-going home interiors in white and wood, while White forms exciting contrasting features in black and white interiors with lots of stainless steel and glass.
It's all about transparency, as the bread bin with gently rounded corners has a see-through panel at the front. The lid proves its versatility with its top quality rubber tree wood, airtight closure and additional use as a cutting board as well, if required. The integral aeration holes ensure baked goods stay fresh for longer and are hygienically stored. Non-slip feet provide grip on smooth worktop surfaces and prevent scratches.
The line includes stackable storage containers which are also designed with a see-through panel. The light grey plastic lid closes airtight and ensures that delicate foods, such as coffee, retain their fine aroma. A resilient kitchen roll holder completes this modern look range.