Hailo EasyClix Replaceable Foot Sets for Living & Garden use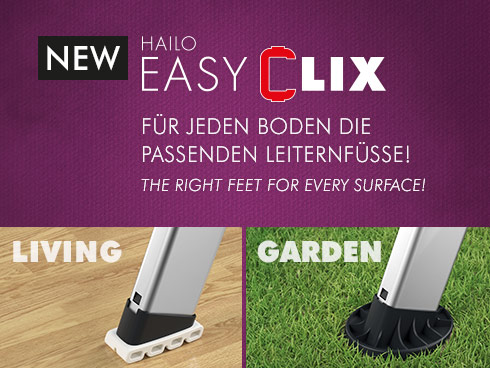 The traditional brand with the red dot is once again setting standards in the industry with trailblazing accessories. The inventor of the first aluminium household ladder has developed a clever Replaceable Foot System that opens up new dimensions in versatility.
Hailo EasyClix makes it easy to change ladder feet and therefore scores plus points for protecting surfaces and providing stability in the home and garden. It makes the Hailo stepladder range one of the most versatile on the market, as it provides the option for the first time of adapting one and the same ladder to the specific ground conditions as required - quickly, easily and reliably.
Realising this intelligent product concept required a modification to the standard ladder foot. It uses a click system - recognisable by the square recess on the stile - which allows the required feet to be quickly attached. A feature of this new design for the standard profile is an optimised footprint with large broad ribs and raised sides which help to prevent unwanted pressure points.
The two feet options meet specific requirements that Hailo took as its starting point, and as a result the EasyClix Living Set protects delicate floor coverings, such as parquet, laminate and vinyl as well as marble, from scratches and streaks and is totally slip-resistant. The large, disc-shaped EasyClix Garden Feet are ideally designed for soft ground outside.
It takes just three steps to change the feet and you don't need to be clever with your hands. Simply attach the small red clip supplied with the set to the end of the rail, release the old foot and remove it. Then insert the appropriate foot - and that's all Hailo's love of detail is evident in another product feature: once the job's done, the set can be stored in a compartment mounted underneath the platform where the set of feet and the release clip are clearly stowed and always to hand.