Hailo wins iF Design Award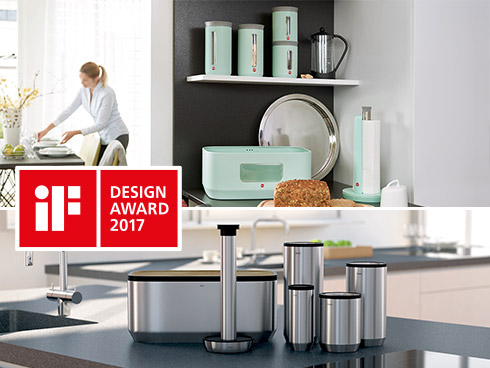 Twin success for Hailo: in the 2017 iF Design Awards, one of the world's biggest design competitions, two of the company's kitchen accessory lines came out on top with both the KitchenLine Design and the KitchenLine Design Plus lines among the prize winners.
For more than 60 years, the competition launched by iF International Forum Design has enjoyed an excellent reputation when it comes to first-rate design. For Hailo, the well-known label is a quality mark that sends out a strong signal to consumers, many of whom use it as a guide for purchases. At the same time, the company sees it as validation of the new design concept typical of the brand.
The best of the best are chosen using established criteria from among 5,575 submissions from 59 countries. The innovative kitchen accessories found favour with the expert panel due to their functionality, aesthetics, ergonomics and user benefits. Both award-winning lines also include bread bins, storage jars and kitchen roll holders.
The bread bins have a handy additional benefit to impress users: the wooden lid can also be used as a cutting board.