Handy extras for stepladder jobs: Hailo multipurpose storage tray system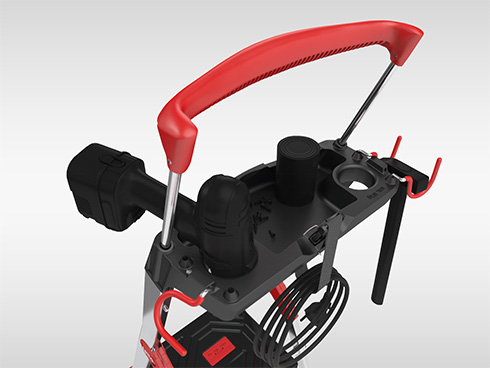 From redecorating to picking fruit, Hailo is best equipped for all jobs with its broad range of top quality aluminium ladders. Now the manufacturer has again upgraded its portfolio with respect to one important feature: the tray.
The new multipurpose storage tray system now introduced by the ladder specialist is an all-round solution dedicated to users' specific needs - across all product lines.
Simply clever! The sturdy black plastic tray now achieves high standards on its own, having been precisely tailored for the manual tools that need to be immediately to hand for different jobs on the ladder. As well as tools, paint tins and small items, which usually sit on the tray, there are four more product features - depending on the range of ladders - where they can be accommodated: a safety rail, clip for long-handled tools, universal hook and bucket strap which ensure that tools are perfectly organised when working at heights.
While brooms, fruit-pickers and so on can be conveniently parked in the clip on the side of the tray, the universal hook is able to support heavy items, such as hedge shears and hammers. A bucket strap made from tear-resistant nylon completes the system. It has a click-in quick lock and allows extension leads, buckets and vacuum cleaners to be secured to the ladder.
Cleaning windows, changing light bulbs, hanging pictures and painting walls are all traditional uses for a household ladder, such as the ComfortLine XXR whose tray is optimally equipped for all these jobs with a bucket strap and extendable safety rail, ensuring buckets, cloths, squeegees and professional window cleaning equipment are always to hand.
The Hailo XXL Garden & Home for indoor and outdoor use is highly regarded by amateur gardeners, and with this range the clip for long-handled tools, universal hook and bucket strap bring additional benefits. As well as secateurs, loppers and shears, a basket can also be safely parked on the tray to make the job easier.
When the ChampionsLine XXR 225 was developed, Hailo took a close look at the needs of DIY enthusiasts. It simply isn't possible to plaster walls, replace wood ceilings or fit insulation panels without the right equipment. Sufficient reason then to design a tray that comes fully equipped for ladders with a maximum load of 225 kg: the clip for long-handled tools, universal hook and safety rail ensure that DIYers can put together a full set of the tools they'll need for the job.