Innovative and stylish: KitchenLine Design Plus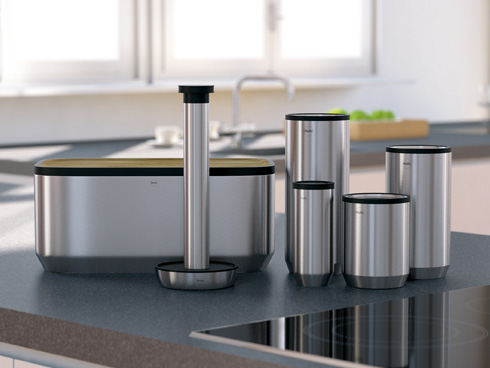 Open kitchens are very much on trend and are ideal for cooking and enjoying meals together - best of all, with family and friends. The perfect team to support home cooking are accessories that personalise the kitchen and provide a final harmonious touch to the overall picture.
KitchenLine Design Plus is a new range of stylish kitchen accessories which inspire in both form and function. The appeal of this top quality ensemble, consisting of bread bins, storage containers, coffee pod containers and kitchen roll holders, is in its elegant and minimalist stainless steel look: it exudes pure aesthetics and is a real eye-catcher.
The decorative utensils on the (kitchen) block boast stylish and puristic housing manufactured in rustproof brushed stainless steel and will enhance any design-driven setting. As a result, they are becoming the partner of choice in contemporary high-end kitchens with their distinctive clear lines and fine materials. A non-slip ring on the base gives these attractive accessories their stability on all work surfaces.
The star of the lifestyle range is the chic bread bin with rounded corners. It has ventilation holes and a seal-tight lid made of rubberwood with a plastic frame which create the optimum conditions for storing bread - and it scores bonus points for impressive added value, as the lid can also be used as a cutting board! The light, extremely tough and easy-care wood also forms a charming contrast to the bin's cool and clear-cut stainless steel finish.
A great all-round performance is provided by Hailo's food-grade storage containers which have a pleasing feel and are easy to open and close. The ideal home for ground coffee, tea, sugar, muesli and more. An optional lid with a handy plastic see-through panel is also available for checking the contents. To accommodate individual needs, these stackable storage containers are available in three sizes. Another stylish accessory in the line is the coffee pod container which provides the right storage and visual qualities for enjoying quick single serve coffee products.
Rounding off the portfolio is a kitchen roll holder that comfortably takes all standard kitchen rolls and is always to hand. It has a plastic removable plug, making it easy to replace the roll.