Next generation waste bins: Hailo Pure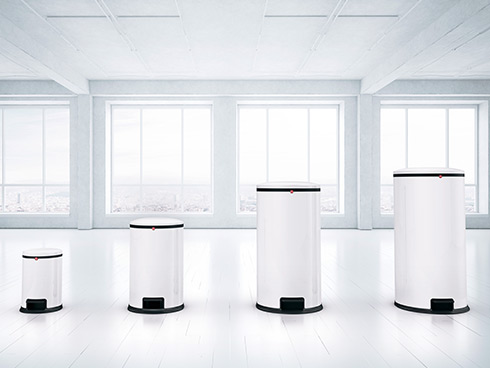 Right down to the essential! Hailo introduces Pure, an innovative range of distinctive waste bins with clean and consistent design lines to set new trendsetting standards in the industry.
These functional items which are cleverly designed right down to the tiniest detail embody the spirit of the times precisely with their clean lines and balanced proportions.
The name says it all, as Pure deliberately dispenses with fashionable styling. The round body in combination with the slightly curved lid gives these newcomers to the portfolio a timeless appearance with uncompromising simplicity. As a result, the puristic waste bins are ideally cast to star in en vogue interiors where kitchen, dining and living space flows fluently from one to the other. This also applies to the en suite bedroom and bathroom concept, which is currently a very much up-and-coming combination. These trends result in an increasing significance for furniture and accessory design.
Superb for universal use in home interiors, the new waste bins don't just deliver the perfect look but deploy technical flair as well. First and foremost here is the innovative Soft Close feature, a cushioned closing mechanism which that ensures the lid closes silently. All that's required to open it is to press down lightly on the pedal of this stable waste bin and the large opening angle makes it easy to drop waste into the bin. The unique bin liner clamping ring system reliably keeps the bin liner in place and is totally invisible from the outside with the 4 and 16 litre models.
Pure combines aesthetics and function with playful ease - in a high standard of design realised brilliantly by Hailo together with the well-known Frankfurt-based Barski Design agency. It's an inspirational collaboration, as is evident from the visualisation of Hailo's brand values. From now on, these will be much more striking due to the signature elements that feature in the design. For example, the centrepiece of the brand, the well-known red dot, has a fixed place: directly on the body, arranged symmetrically and facing the user. At the same time, the pivot of the hinge is emphasised with a red spindle. As a result, the designers have skilfully created - as originally with the brand ladder - the link between tradition and the future. The contrasting horizontal colours at the top and bottom frame the waste bins to give them their characteristic structure.
The avant garde look is underscored by an elegant colour palette, with Black, White, Silver, Vanilla, Red and Stainless Steel turning the waste bins into a full-blown feature.
With Pure, the leading manufacturer of waste bins and ladder systems has once again put its instinct for trends and directions in the market impressively to the test and expanded the whole Living concept with a new dimension.