Outstanding brand quality: Plus X Award for Hailo ComfortLine XXR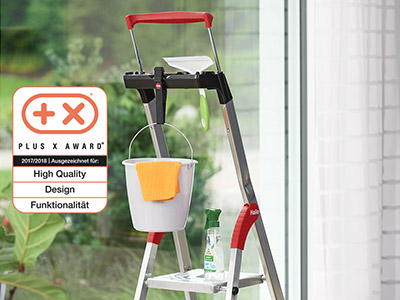 Design, high quality and functionality! These were the categories in which the Hailo ComfortLine XXR won out in the world's biggest prize for innovation in technology, sport and lifestyle.
The aluminium safety ladder was a winner with the expert international jury, drawn from 25 sectors, and was presented with the prestigious Plus X Award.
Multi-purpose tray, safety rail, extra-deep steps with non-slip ribbing - the award-winner impresses with its combination of robustness and maximum safety, suitable for day-to-day professional use. Its range of applications can be extended for use indoors and out thanks to the foot-change system: the EasyClix Living foot is particularly resistant to slipping and protects sensitive floor coverings such as parquet and laminate. The saucer-shaped EasyClix Garden feet ensure optimum stability on soft ground. This means that the ladder can also be used outdoors.
The renowned Plus X Award recognises brands for the advances in quality and innovation in their products, acknowledging new technologies, ease of use and contemporary design. The high numbers of entries every year underline the importance of these international competitions. In times of global markets, the Plus X Award serves as a guide, making the choice of purchase easier for consumers. For Hailo, too, the award carries great value, as confirmation of its commitment to design and as a motivation for further, forward-looking product solutions.